Konrad Schrøder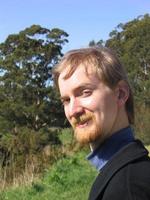 My name is Konrad Schroder, and by day I am the UW HITLab's Assistant Director for Information Technology and Services.
History
I graduated Garfield High School in 1990, and received a B.S. with Distinction in Mathematics and a B.A. in Latin from the UW in Winter 1995. While finishing up those degrees I worked as the NeXT and Unix lead help desk consultant at the now-defunct Academic Computer Center lab. As a lead I was responsible for the NeXT lab, for educating the other consultants about Unix, and for making sure that Unix-oriented mail sent to help@cac.washington.edu was answered within a reasonable time frame.
Since that time I've been at the HITLab, starting as a mere System Administrator and slowly expanding my role to its current state, which includes programming on various projects, consulting on others, a degree of management, monitoring the lab's ``fleet'' of one van, taking care of the web site, and of course the typical twin sys-admin duties of keeping our computing infrastructure usable and training the users to use them.
In between times, I've been a founding member of a seed-level startup company specializing in wearable computers; and a kernel developer for the NetBSD Project.
Interests
My academic pursuits include the Log-structured File System, a database-oriented approach to filesystem design included in The NetBSD Project; and Project Libellus, a largely stagnant but still perhaps useful collection of classical Latin texts and learning aides.
Papers
Alternate Viewpoint
There is a different collection of information about me on my personal page.