Page Last Updated: 96.04.20
Return to CEDeS Lab Projects Page
---
Seattle Commons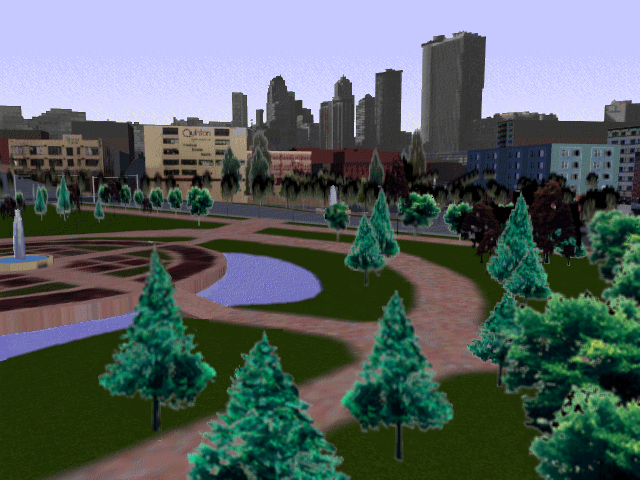 A view of the Seattle Commons, a proposed park near downtown Seattle.
---
Created by: Virtual Environments Class (ARCH598)
Prof. Jim Davidson, Dace Campbell, Barbara Freeman, Ryan Ghere, Kathleen Heimerman, Teresa Hsin, David Saxen, Scott Starr, Michelle Wang
Software: AutoCAD, 3D Studio, WorldToolKit
Images:
Plan View of Model of Seattle Commons, (87.2 KB)
Aerial View of the Commons, Looking South Towards Downtown Seattle, (152 KB)
Aerial View of the Commons, Looking North Towards Lake Union, (156 KB)
Pedestrian View from within the Park, (163 KB)

Models:
North Half, VRML 1.0, (1.72 MB)
North Half, G-Zipped, (220 KB)
South Half, VRML 1.0, (1.73 MB)
South Half, G-Zipped, (211 KB)


The City of Seattle is considering a proposal for the development of an urban design near its downtown. The original proposal involved the creation of a 61,000-acre park connecting the central business district with Lake Union. Although the Seattle Commons has the support of the local media and the mayor, it remains a controversial proposal due to its high cost and the concerns for the business already in the area which would be displaced by the park. In a referendum in November of 1995, the citizens of Seattle voted down a proposal for a tax increase which would fund the Seattle Commons. The project continues to be pursued by interested parties, and an alternative proposal will be voted upon in 1996.

In the summer of 1994, in the context of the pilot "Virtual Environments" class, eight graduate students in architecture, landscape architecture, and urban planning, the CEDeS Lab developed a virtual environment representing the Seattle Commons. This virtual environment was simulated in real time using virtual interface technology at the HIT Lab to aid in review of the proposal and its evaluation by the citizens of Seattle.