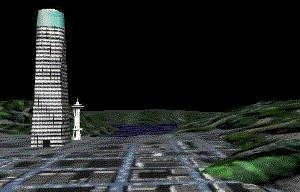 Learning Through Exploring Virtual Worlds
You are about to get a glimpse of virtual reality (VR)'s use in education. Although this technology was so expensive a few years ago that only the military could afford it, now the prices have become affordable even for schools. We hope this introduction will whet your appetite to the exciting educational opportunities that VR provides. If you have access to some of the latest PC-based web browser software, you will get a chance to 'fly through' one of our virtual worlds. After your experience, please give us feedback through the attached survey. Thanks!
The Teacher/Pathfinder project has commissioned the Human Interface Technology (HIT) Lab's Learning Center at the University of Washington to introduce teachers to VR's use in education. The Learning Center has acquired its expertise in this domain through the generous funding of the US WEST Foundation for the Virtual Reality Roving Vehicles (VRRV) project.
With the help of Seattle Public Schools' students, the Learning Center has developed a prototype of a Global Warming World (GWW) that teaches middle and high school students about this complex phenomenon. We will be using this model as a basis for documenting the world building process and developing an introduction to how a virtual world is built.