VR Treatments for Post-Traumatic Stress Disorder
<![if !vml]>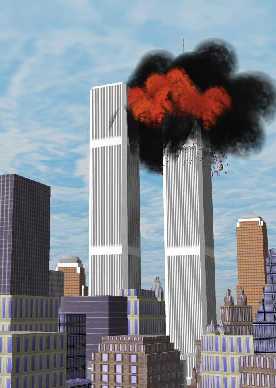 <![endif]>
Sept. 11, 2001, unfolds again in a virtual world. The program is helping some patients deal with the emotional trauma of the attack. Image copyrighted Hunter Hoffman, U.W.
A Weill Cornell Medical College therapist and a virtual reality researcher from the University of Washington HITLab are using virtual reality to treat victims of the Sept. 11 attack on the World Trade Center, and their regimen appears to be effective in helping patients cope with the severe psychological trauma of the event.
Dr. JoAnn Difede, assistant professor of psychiatry New York-Presbyterian Hospital/Weill Cornell Medical Center and Hunter Hoffman, Ph.D., Director of the VR Analgesia Research Center at the UW's Human Interface Technology Laboratory in Seattle, developed the computerized treatment for patients suffering from post-traumatic stress disorder, or PTSD.
"In order to get better, patients must confront what they fear,'' says Dr. Difede. "They need to retell their trauma in order to become desensitized to it.'' This is how imaginal exposure therapy, the standard treatment for PTSD and phobias, has worked as well. A therapist encourages patients to imagine what frightens them and to talk about it. But, for many patients, especially those with PTSD or phobias, this can be a problem. Inherent in the ailments is the tendency to avoid fear, and this leaves many patients unwilling or unable to "open up.'' Here is where virtual reality has a real advantage.
By putting on a VR helmet, the patient is immediately immersed into a three-dimensional environment. When they look down or sideways, the scenery shifts. "It's a sensory rich virtual world that creates an evocative therapeutic environment,'' says Dr. Difede. "It encourages the patient to emotionally engage.''
Difede and Hoffman's initial case study published in the journal CyberPsychology described the treatment of a woman whose Sept. 11-related post-traumatic stress disorder wasn't responding to traditional therapy that involved patients recounting their traumatic experiences to a therapist.
Their first VR patient was a young female executive who survived the WTC attacks without serious physical injury, but developed severe psychological PTSD symptoms. She suffered from flashbacks, avoidance (i.e., refusal to watch news reports or stay in tall buildings), sleep problems, hypervigilance to avoid disaster, and anger and irritability. Traditional imaginal exposure therapy was ineffective, and during her initial evaluation for VR, the patient's engagement was limited. With little emotion, she described her experience on September 11.
However, upon putting on goggles and entering into the virtual world of lower Manhattan, she saw the twin towers and began to cry for the first time. After six VR sessions with Dr. Difede, the woman showed a 90-percent reduction in symptoms of PTSD and an 83-percent reduction in symptoms of depression. After the patient completed therapy, an independent evaluator determined that the patient no longer met the criteria for PTSD, Major Depression, or any other psychiatric disorder (see figure below). The patient's verbal self-report was also consistent with the evaluator's findings. Since then, several other people, including a New York City firefighter, have completed the virtual therapy with positive results and more patients are being enrolled.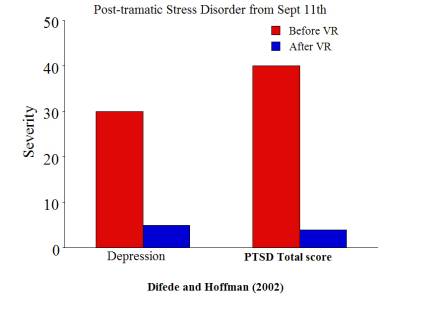 One of the major virtues of the virtual process, according to Hoffman, is that it helps patients revisit their experiences in a safe, controlled environment.
"The illusion of being back at the World Trade Center on Sept. 11 helps patients gradually access emotionally laden memories they have been avoiding thinking about,'' he said.
Virtual reality offers the therapist and patient total control over their environment and the ability to proceed at an individualized pace. "You desensitize people to their fears in a graded fashion,'' says Dr. Difede. With the 9/11 software, for example, a patient can experience planes flying by the WTC until they are comfortable enough to watch one hit a tower.
Compared with the expense of creating situations in the "real world,'' virtual reality is cost effective, and it will allow therapists to treat a wider spectrum of people. (Compare a reusable flight simulation versus travel to an airport and the cost of tickets for a patient and therapist.) Decreasing costs for developing software and computer equipment will also help to make VR treatment more accessible.
Researchers speculate that people with anxiety disorders such as PTSD who are unwilling to seek traditional therapy may be more comfortable seeking treatment involving VR therapy.
Dr. Difede is an Associate Professor of Psychology in Psychiatry at Weill Cornell Medical College; an Associate Attending Psychologist at NewYork-Presbyterian Hospital/Weill Cornell Medical Center; and the Director of The Program for Anxiety and Traumatic Stress Studies at the Payne-Whitney Clinic at NewYork-Presbyterian Hospital. She has worked with survivors of trauma for the past 15 years and is currently Principal Investigator of two National Institute of Mental Health (NIMH)-funded studies for the treatment of PTSD. Following the World Trade Center attacks of September 11, 2001, the National Institutes of Health awarded Dr. Difede one of the few supplement grants to extend her treatment study to survivors of the WTC attacks.
The virtual reality work at NewYork-Presbyterian Hospital/Weill Cornell Medical Center is supported by Pfizer, Inc., Dell Computers, the National Institute on Drug Abuse (NIDA), and the Paul Allen Foundation donation to Harborview Burn Center in Seattle. Howard Abrams programmed the software to treat PTSD using models made by Duff Hendrickson and a model of lower Manhattan donated by www.3dcafe.com.
Hoffman has also created virtual worlds to successfully treat patients with spider phobia and to help distract burn victims from their extreme pain during burn wound care and physical therapy. And he is collaborating with a team of researchers led by PTSD therapist Patrice L. (Tamar) Weiss of Haifa University of Israel and Azucena Garcia-Palacios of Jaume I University in Spain to create a virtual-reality treatment for survivors and witnesses of suicide bombings who develop PTSD (programmed by HITLab affiliate Ari Hollander, www.imprintit.com).
For more information, contact Hoffman at (206) 616-1496 or hunthoff9@gmail.com.
For a copy of the case study that appeared in CyberPsychology, point your Web browser to http://www.hitl.washington.edu/people/hunter/wtc.pdf.
To learn more about getting Virtual Reality Exposure therapy in Manhattan for fear of public speaking, fear of heights, fear of flying, and other phobias, or PTSD for Sept 11th (in a research study) please click here.
Click HERE to see 1 min digital news interview with WTC PTSD patient after VR Therapy.
---
Contacts
Hunter Hoffman <hunthoff9

gmail.com>