Virtual Playground
The Virtual Playground software system was first demonstrated at two conferences in November 1998 (VRST'98 in Taipei, Taiwan and CSCW'98 in Seattle, Washington). Since then, the VP has evolved as a starting point for three other VP-based software projects: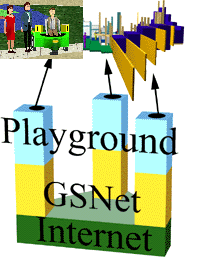 Adjective World was demonstrated at the Kaohsiung Museum of Science and Technology (in Kaohsiung, Taiwan) for the month of August 1999. Children aged 10 through 12 connected to join three teams and race the clock in a virtual scavenger/shopping spree. Shopping list items were not explicit but instead described by three adjectives and players investigated six virtual stores to find appropriate items and cart them (using virtual tricycles) back to their team's virtual home.
Big Beef Creek World was used in a remote sensing graduate class at the University of Washington during October 2000. Students connected with each other virtually to investigate data layers provided by LANSAT data and determine where the best locations would be for ground truthing landcover clusters near the Big Beef Creek watershed. Big Beef Creek development continues within the College of Fishery Sciences at the UW.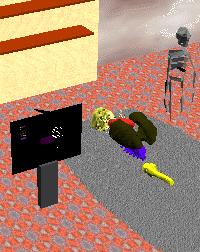 The Virtual Anatomy Lab was presented at the MMVR2001 (Where Medicine Meets Virtual Reality) conference in Newport Beach, California during January 2001. VAL users connect to a virtual cadaver lab to load various body part meshes and perform queries against a relational database storing 15 different relationships between body parts (is a, part of, adjacent to, tributary of, etc.). The application has been developed to help students study Anatomy and is one of many Web-based tools provided by the Digital Anatomist project at the UW.
The Virtual Playground can connect users through any of three popular networking protocols: Multicast, Client-Server, and Broadcast, as well as allow users to run the applications in a standalone mode. Currently, Big Beef Creek World is implementing the open source VNet networking package for comparison with the HIT Lab's home grown VPServer package.
More Historical Information
The paper "Virtual Playground: Architectures for a Shared Virtual World" was presented and the project was shown at Virtual Reality Software and Techonolgy (VRST) '98 conference in Taipei, Taiwan, November 2-5, 1998.
The "Dynamic Virtual Playground" was also demonstrated on November 17, by the HIT lab and Battelle/PNNL at the Computer Supported Cooperative Work (CSCW'98) conference held here. For more information, see http://www.acm.org/sigchi/cscw98/program/demos.html#may
"The Virtual Anatomy Lab: A Hands-on Anatomy Learning Environment" was presented as a poster and short paper at MMVR2001. Campbell, B.; Rosse, C.; Brinkley, J.F.; (2001). Proceedings of the Medicine Meets Virtual Reality (MMVR2001) Conference.
As a continuation of the Greenspace project we have designed and prototyped a new generation of a shared virtual space. Written completely in Java and using the new Java3D API it takes advantage of the robustness and portability of the Java language and libraries.
The design of the Virtual Playground included more than just technical considerations of how to synchronize content between host machines. We started by re-examining why people spend time in virtual communities and what they do and how they do it. From this top down approach we designed the affordances and the underlying technical requirements.
We continue to build on the basic framework of the Virtual Playground and continually add new functionality. From June 1998 through June 2000, Battelle (PNNL) agreed to act as an alpha site and added their own functionality to what we had built.
---
Contacts
Dr. Bruce Donald Campbell <bdc

hitl.washington.edu>